Slå til!: Køb Trixie Gulliver transportkasse & Vetbed® Isobed SL i kombination nu!


Med Trixie Transportbox Gulliver bliver rejser for dig og din hund til en komfortabel og problemfri affære. Plastboksen med madskål, masser af opbevaringsplads og et bredt håndtag på forsiden er IATA-kompatibel, og følger standarderne for næsten alle flyselskaber.

Uanset om du er i bil, tog eller fly - hvis du tager din hund med dig på rejsen er en behagelig, sikker transportboks nøglen. Trixie Gulliver transportboks er et godt valg. Modellen er tilgængelig i flere størrelser, så både små og store hunde kan passe komfortabelt i den. Boksen er lavet af robust plastik i høj kvalitet, i lys- og mørkegrå farve og udstyret med en metaldør, der åbner til siden og kan lukke sikkert og nemt. Talrige udluftninger sikre en optimal luftcirkulation.

Særligt praktisk: En praktisk foder- / vandskål af plastic er inkluderet. Den kan hænges på gitterdøren i individuel højde.
. To praktiske rum sørger for plads til snacks og tilbehør.. Hundeboksen har et håndtag foran - dog bliver transporten endnu mere behagelig med hjul, som kan bestilles separat.

Hvis det er nødvendigt, kan du fjerne den øverste del af Trixie hundeboks ved at åbne låsene på boksen.

Hundeboksen opfylder IATA-reglementet, hvilket gør den tilladt i de fleste lufthavene.


Slå til nu!: Køb Trixie Gulliver transportkasse & Vetbed® Isobed SL i kombination nu!

Tilbudet fås i følgende kombinationer:
Transportkasse Str. 4: 52 x 72 x 51 cm + Tæppe L 75 x B 50 cm
Transportkasse Str. 5: 58 x 79 x 60 cm + Tæppe L 100 x B 75 cm
Transportkasse Str. 6: 64 x 92 x 64 cm + Tæppe L 100 x B 75 cm
Transportkasse Str. 7: 73 x 104 x 75 cm + Tæppe L 150 x B 100 cm

Vetbed® Isobed SL hundetæppe Paw er ikke bare enormt blødt, med også allergivenligt og derfor perfekt til hunde, der lider af allergier, eller som underlag i hundekurven. Mønsteret med de fine poter gør hundetæppet perfekt til alle slags situationer.

Det tykke og meget bløde materiale virker isolerende mod gulvkulde og er ventilerende, idet fugt og luft kan trænge igennem. Vetbed® Isobed kan vaskes ved 95°C i vaskemaskinen og derved desinficeres og er dermed ekstra hygiejnisk og allergivenligt.

Hundetæppet er lavet af slidstærkt hulfiber og kan nemt klippes til, så du får den ønskede form og størrelse. Kanterne trævler ikke. Undersiden har en skridsikker/non-slip overflade af gummi, så tæppet ikke glider på glatte gulve.


Vetbed® Isobed SL hundetæppe Paw, sort/grå i et overblik:
Anti-allergent
Fugt og luft ledes igennem materialet
Isolerer mod gulvkulde
Med skridsikker underside
Kan maskinvaskes ved 40°C (normal vask)
Kan maskinvaskes ved 95°C (desinfektions-vask)
Kan klippes til efter behov, trævler ikke
Pelsstruktur af hulfiber (100% polyester)
Luvhøjde 20 mm, ca. 2.000 gr/lm
Sort med grå poter
Made in England
Pleje: til dagligt bør du vaske Vetbed® Isobed SL Hundetæppe Paw, sort/grå ved 40°C. Du desinficerer tæppet ved maskinvask på 95°C. For at undgå skader på stoffet og den skridsikre underflade, bør desinfektions-vasken kun udføres hvis det er strengt nødvendigt.
Efter vask forandrer overfladens tekstur sig, dette påvirker dog ikke produktets funktion.
Brug ikke blødgørende skyllemidler og tørretumbler!

Tilbehør:
Pakken med hjul; består af 2 forhjul med smart låsemekanisme samt 2 baghjul
Det er let at montere hjulene under transportboksen.
Hjulene skal bestilles separat; følger ikke med boksen!
Trixie Transportbox Gulliver i overblik:
Hundeboks, ideel til rejse med bil, tog eller fly.
IATA-kompatibel (anerkendt af næsten alle flyselskaber)
Robust plastikboks med metaldør
Sikker og låsbar
Bredt fronthåndtag (Hjulene skal bestilles særskilt; følger ikke med boksen!)
Udstyret med madskål (fastgøres til døren)
2 smarte hylder
Udluftninger for optimal luftcirkulation
Farve : mørkegrå / lysegrå
Materiale : Plast
Gittertype : Kan udtages (kun døren)
Gittermateriale : Metal
Ventilationsplacering : udluftninger på siderne og på bagsiden
Forskellige størrelser
Størrelsestabel:
Str.
Ydermål: B x D x H i cm
Indre mål
B(maks./min.) x D x H(maks./min.)
Boksens vægt
Hundens max. vægt
Velegnet til blandt andet
4
52 x 72 x 51
46/43 x 64 x 47/41 cm
4,7 kg
til 18 kg
Beagle, Cocker Spaniel, West Highland
Terrier, Puddel
5
58 x 79 x 60
54/49 x 71 x 57/51 cm
7,1 kg
til 25 kg
Puddel, Basset, Bearded Collie, Border Collie,
Chow Chow, Collie
6
64 x 92 x 64
60/54 x 83 x 62/56 cm
8,9 kg
op til 38 kg
Borzoi, Bobtail, Münsterländer,
Airdale Terrier, Dalmatiner, Labrador
7
73 x 104 x 75
67/61 x 94 x 73/66 cm
11,3 kg
op til 50 kg
Airdale Terrier, Boxer, Dobermann,
Schæfer, Labrador, Retriever, Sankt Bernhard
OBS: Indermålet er 5 cm mindre end ydermålet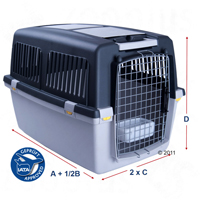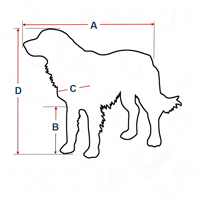 Den rigtige længde (A + 1/2B): Mål dyrets længde fra næsen til haleroden + halvdelen af forbenenes længde.
Den rigtige bredde (C x 2): Mål bredden fra skulderblad til skulderblad og gang den med 2.
Den rigtige højde (D): Mål dyrets højde fra poterne til kraniet/ørespidserne.
Vær opmærksom på: Denne transportboks er produceret efter de aktuelle IATA-retningslinjer (International Air Transport Association). Ifølge retningslinjerne skal transportboksens størrelse altid sikre, at dit dyr kan stå oprejst, uden at ører eller hoved rører boksens loft. Den skal have plads nok til at dreje sig, og lægge sig i en naturlig position.
Vigtigt: Beslutningsbeføjelserne vedrørende transportbokse påhviler hver enkelte airline! Vi anbefaler derfor, at du checker den udvalgte transportboks' konformitet med det flyselskab du vil rejse med.
Vigtigt:
Størrelsestabellen er blot ment som retningslinje for at gøre det lettere at finde den perfekte hundeboks til din hund. Den individuelle størrelse på hunden er det vigtigste! Væn din lille ven langsomt og forsigtigt til den midlertidige anbringelse i boksen. Start med at lade dit kæledyr bruge boksen med åben dør. Væn den nu langsomt til længere og længere perioder med døren lukket. Derefter kan du langsomt prøve dig frem med korte køreture i bilen. Boksen må aldrig bruges som straf. Boksen skal repræsentere et sikkert og positivt sted for din hund.